The Sour Tarantula Cocktail
We designed two cocktails for our Podcast Promo Party that was hosted on July 21st, 2021. Erick's cocktail used one of our new-found spirits, Tarantula Azul Tequila with some sour mix to make a fun playful cocktail perfect for a party or around the pool.
The Sour Tarantula Cocktail Recipe
We wanted to be sure we gave you enough time to gather those ingredients. And so, we're presenting the recipe a little early to help you out!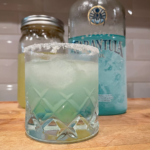 Print Recipe
The Sour Tarantula
Equipment
Lowball Glass

Cocoktail shaker

Jigger
Ingredients
Garnish
Rimming Salt

Lime or Lemon wedge

for rimming glass

Gummi Spiders

optional
Instructions
Chill rocks glass in freezer then rim glass with salt and fill with ice.

Add ice, tequila & sour mix to cocktail shaker.

Remove glass from freezer & fill small plate with salt

Rub rim of glass with lemon/lime wedge then roll rim in salt as desired

Pour all contents from cocktail shaker into rimmed rocks glass.

(optional) Add gummi spider for garnish.
Notes
If you can't find Tarantula Tequila, substitute with white/blanco tequila. Same goes for gummi spiders; Trolli gummi octopus work out perfectly.
Some of that mixology terminology a little too confusing for you? Don't worry! We have you covered with a video you can follow!
The Sips & Spirits Cocktail Promise
As you familiarize yourself with what Sips & Spirits does on the podcast, we also have certain goals in mind. It is extremely important when we design cocktails that they are not just friendly to the beginner mixologist, but also affordable. The majority of the ingredients listed can be substituted and suggestions are noted whenever possible.
But that's not all! Whenever we design an original cocktail, we try to provide a mocktail to match. Whatever the reason, we understand that not everyone wishes to or is able to indulge in alcohol and we find it valuable to offer an alternative so you can still be a part of the fun. Unfortunately, as this was one of our earlier cocktails, you'll have to check back later when we revisit this cocktail to create a non-alcoholic version.