Visiting Schmendrick's Grave Cocktail
We designed two cocktails for our Podcast Promo Party that was hosted on July 21st, 2021. Chelsea conjured a cocktail by visiting Schmendrick's gin then garnished with unique skull shaped sugar cubes for grave vibes.
Visiting Schmendrick's Grave Cocktail Recipe
Chelsea has been obsessed with Hendrick's Lunar Gin throughout 2021. It was a quick decision to create a cocktail with it for the Sips & Spirits Promo Party. If you didn't catch the correlation between Hendrick's and Schmendrick's, you'll have to go back and watch our party for the full backstory.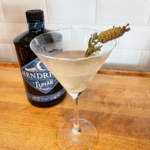 Print Recipe
Visiting Schmendrick's Grave
Instructions
Chill martini glass in freezer

Fill cocktail shaker with ice

Add gin, lemon, one sugar cube and shake.

Remove glass from freezer and add 1 sugar cube.

Dash bitters over sugar & muddle.

Strain from shaker into glass.
Notes
If you have the skull sugar cube, skip steps adding one cube into shaker and muddling in glass. Just place it in your glass with bitters to transform into the "grave soil".
Why Absinthe sugar cubes?
They dissolve more efficiently in cold drinks versus regular sugar cubes which require some heat to dissolve effectively in a drink.
Some of that mixology terminology a little too confusing for you? Don't worry! We have you covered with a video you can follow!
The Sips & Spirits Cocktail Promise
As you familiarize yourself with what Sips & Spirits does on the podcast, we also have certain goals in mind. It is extremely important when we design cocktails that they are not just friendly to the beginner mixologist, but also affordable. The majority of the ingredients listed can be substituted and suggestions are noted whenever possible.
But that's not all! Whenever we design an original cocktail, we try to provide a mocktail to match. Whatever the reason, we understand that not everyone wishes to or is able to indulge in alcohol and we find it valuable to offer an alternative so you can still be a part of the fun. Unfortunately, as this was one of our earlier cocktails, you'll have to check back later when we revisit this cocktail to create a non-alcoholic version.