Our Yara Ma Yha Who cocktail catches you unaware in the mixed embrace of Sweet Gwendoline French Gin and a Forbidden Kiss red sparkling wine tied together with some honey simple syrup. This cocktail will consume you without warning, but leave you in giggles. Discover more about this cocktail on our podcast in Episode 32 (Yara Ma Yha Who cryptid & cocktail).
Yara Ma Yha Who Cocktail Recipe
We created this cocktail for our Cocktails & Cryptids series. It debuted in episode 32 on February 16th, 2023. Find the ingredients and instructions required with our printable recipe card.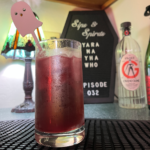 Print Recipe
Yara Ma Yha Who Cocktail
Equipment
1 Jigger

1 Cocktail Shaker

1 Collins or highball cocktail glass

1 Swizzle stick
Ingredients
2

oz

Sweet Gwendoline French Gin A botanical gin makes a nice substitute, but due to the gin infusion of this spirit, if you can get your hands on it, we highly recommend it.

1

oz

honey simple syrup

½

half

lemon

~¾ oz lemon juice

red sparkling wine

to top
Instructions
Fill cocktail shaker with ice, gin, syrup, and lemon

Strain mixture into cocktail glass filled 2/3 of way with ice

Top with sparkling red wine, then stir with swizzle
Need more visual instructions? We have created a video for you to mix along.
The Sips & Spirits Cocktail Promise
We have certain goals in mind as you discover what Sips & Spirits does on the podcast. It is extremely important when we design cocktails that they are not just friendly to the beginner mixologist, but also affordable. The majority of the ingredients listed can be substituted. Suggestions are noted whenever possible.
When we design an original cocktail, we will also provide a mocktail. We understand not everyone can or wants to indulge in alcohol. We chose to offer an alternative when possible. This allows you to be a part of the fun, regardless of your sobriety reasons.
Yara Ma Yha Who Mocktail (Non-Alcoholic)
Equipment
1 Jigger

1 Collins or highball glass

1 Swizzle stick
Ingredients
3

oz

lemonade

1

oz

fig honey simple syrup

sparkling red grape juice

Sparkling Red Grape Juice is our favorite from Castello di Amorosa, but a brand like Marinelli's or Welch's works well too.
Instructions
In cocktail glass, add fig honey syrup then fill up to ⅔ with ice

Top with sparkling grape juice