Let the Barghest be a warning of fun ahead with this death-symbolic cocktail. Using the beautiful flavors of 3 Howls gin paired with pomegranate flavors for a cocktail that goes down sweet after a scare from this cryptid. Discover more about this cocktail on our podcast in Episode 28 (Barghest cryptid & cocktail).
Barghest Cocktail Recipe
We created this cocktail for our Cocktails & Cryptids series. It debuted in episode 28 on November 24th, 2022. Find the ingredients and instructions required with our printable recipe card.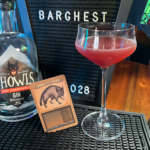 Print Recipe
Barghest Cocktail
Equipment
1 Jigger

1 Cocktail Shaker

1 Martini or coupe glass
Instructions
Fill cocktail shaker with ice, gin, Grand Marnier & syrup

Strain mixture from cocktail shaker into glass

Top with pomegranate juice to taste
Notes
We recommend purchasing a mini bottle of Grand Marnier if you're not familiar with this liquor and don't want to be stuck with a whole bottle. It's the perfect size for three servings of this recipe.
For Pomegranate Simple Syrup:
Heat small pot on medium high heat
Add 1 part pomegranate juice to 1 part sugar
Let simmer for 7-10 minutes; stirring occasionally
Remove from heat & let cool. Store up to 2 weeks in fridge
Need more visual instructions? We have created a video for you to mix along.
The Sips & Spirits Cocktail Promise
We have certain goals in mind as you discover what Sips & Spirits does on the podcast. It is extremely important when we design cocktails that they are not just friendly to the beginner mixologist, but also affordable. The majority of the ingredients listed can be substituted. Suggestions are noted whenever possible.
When we design an original cocktail, we will also provide a mocktail. We understand not everyone can or wants to indulge in alcohol. We chose to offer an alternative when possible. This allows you to be a part of the fun, regardless of your sobriety reasons.
Barghest Mocktail (Non-Alcoholic)